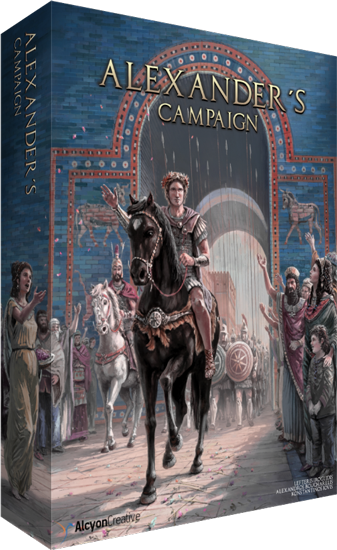 Alcyon Creative's third project is live now on Kickstarter.
After the successfull campaigns for Argonauts and Deus Ex Machina it's time to help us fund Alexander's Campaign.
Alexander's Campaign is a fast paced tactical historical boardgame for 2-3 players, that follows Alexander's Campaign in the east step by step, from 334 to 324 BC. Each player assumes the role of one of Alexander's Generals (Hetairoi), each with his own special ability and unique characteristics. Every turn Alexander moves forward in his conquest of Persia and players are taking turns in taking one of the available actions. As Alexander's Generals, the players strive to conquer enemy cities through military might or crafty diplomacy in an attempt to fulfill their personal agenda.
The campaign is on it's first days and we are already approaching our initial goal.
It's up to you to help us get there quickly and then go for the stretch goals.
If you decide to support our project with any of our pledge levels please help us spread the word by sharing the campaign on social media.
For any questions about the campaign you can contact us directly on the Kickstarter page with a comment or a private message.